Harvey and Irma will cost the US Economy over $290 Billion, Does That Mean Less Money for War?
AccuWeather Predicts Harvey and Irma will cost the US economy a devastating $290 Billion.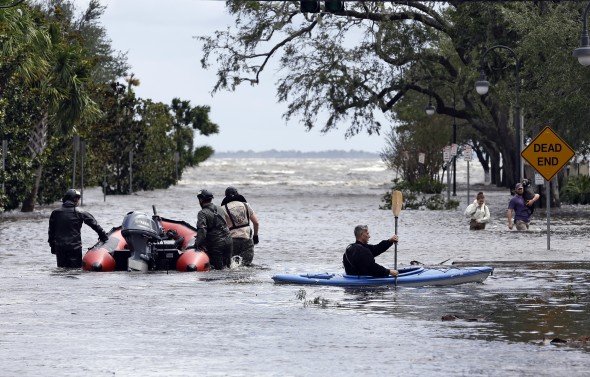 Rescue workers, left, search a neighborhood for flood victims as a man on a kayak floats down the street after Hurricane Irma brought flood waters to Jacksonville, Fla. Monday, Sept. 11, 2017. (AP Photo/John Raoux)
Does this mean the US Government will have less money to spend on illegal invasions, foreign intervention, insurrections, staged uprisings, fake civil wars, weapons, training, and armed vehicles for terrorists?
Taking into consideration that the U.S. national debt surpassed the $20 trillion mark Friday for the first time in the history of the nation.
Or does that just mean that millions of US citizens living in these destroyed areas are going to have to deal with all of the destruction and mayhem that stays long after these storms drift away?
According to AccuWeather, the economic costs will include:
• Disruptions to businesses
• Increased unemployment rates for weeks, and possibly months in some places
• Damage to transportation, infrastructure
• Crop loss, including cotton crop and 25 percent of orange crop, which will impact the cost of consumables for all Americans
• Increased gasoline, heating oil and jet fuel prices impacting all Americans
• Damage to homes, cars, furniture, antiques, jewelry and other valuables
• Loss of valuable papers, cherished belongings such as photos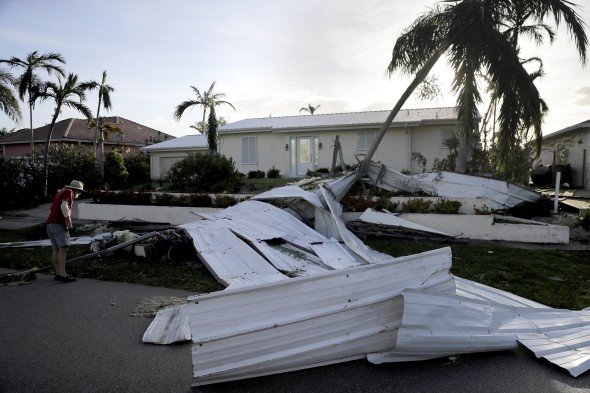 A roof is strewn across a home's lawn as Rick Freedman checks his neighbor's damage from Hurricane Irma in Marco Island, Fla., Monday, Sept. 11, 2017. (AP Photo/David Goldman)
We have money for wars but can't seem to take care of our people right?
Wars are profitable for our Military Industrial Complex. Disease is profitable for Big Pharma. More crime means more jobs for law enforcement. Let's just continue building more jails and fewer schools. We already have the most jails out of any country in the world. Let's leave our hungry and homeless to fend for themselves. Not taking into consideration that many of these people didn't resort to drugs and terrible life choices because they simply felt like it. Sure some people make terrible decisions which led to their unfortunate demise. Let's kill innocent people abroad under the false pretentious lie of "humanitarian intervention". Dropping "freedom bombs" left and right and spreading our version of "democracy".
Let's take the war in Syria as an example. Do you think that the US and it's ally "Israel" really want to see the war end? Do you think they want to bring peace to the region? Of course not. "This is a playoff situation in which you need both teams to lose, but at least you don't want one to win — we'll settle for a tie," said Alon Pinkas, a former Israeli consul general in New York told the New York Times in June 2013. "Let them both bleed, hemorrhage to death: that's the strategic thinking here." Referring to the Syrian government and the terrorist factions.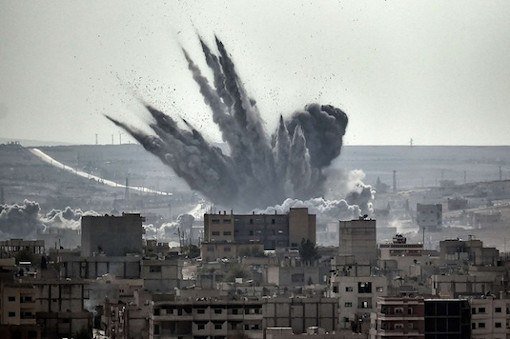 Syrian destruction Photo by Jordi Bernabeu Farrús
What part of all of this translates to "America (referring to the USA) being the best country in the world"? A slogan we hear many people repeat when we mention the shortcomings of this country.
When one questions the government or writes things that don't regurgitate the official narrative they are labeled a conspiracy theorist, they are closely watched by the CIA, FBI, Interpol, and other organizations. Their writings are flagged as "fake news".
Patriotic members of our society start to huff and puff about them not appreciating all the wonderful things that this country gave them including free speech. What free speech?? How many people have been jailed or even killed for being whistleblowers?
Are there countries with worse conditions? Of course, corruption exists almost everywhere, as long as there is greed you will find people who will do what it takes to get ahead and leave others to fend for themselves. Most politicians are in fact liars, swindlers, and cheating the people they pretend to represent and care for. Most governments are not out to protect their own. If that was the case, you wouldn't see the amount of poverty and injustice that exists worldwide.
The next time someone questions or criticizes the way things are done here in the US, instead of getting defensive we as a society should come up with solutions to make things better for ALL OF US.
Featured Image Credit
Written by Sarah Abed September 11, 2017